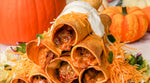 Ingredients:
1 Tbsp of oil 

½ small onion 

1 garlic clove chopped 

Salt and pepper to taste 

½ cup pumpkin puree

1 package of A Dozen Cousins Refried Black Beans 

1 cup of shredded Mexican blend cheese 

1 package of corn tortillas
Instructions:
Preheat your oven to 200 degrees C/ 400 degrees F

Heat 1 tbsp of oil in a large skillet over medium-high heat.

Add onions, and saute until they start to become translucent.

Add the garlic and cook for a couple more minutes.

Add the taco seasoning, salt & pepper, pumpkin puree and black beans. Stir to combine.

Remove from heat and add the shredded cheese.

Spoon about 2 tablespoons of the pumpkin & black bean mixture onto the outer edge of one tortilla and roll up tightly. 

Place seam side down on a baking sheet

Repeat until you've used up all of your filling.

Bake for 15 minutes, until golden brown on the outside.

Serve with salsa, guacamole or any other dip of your choice.