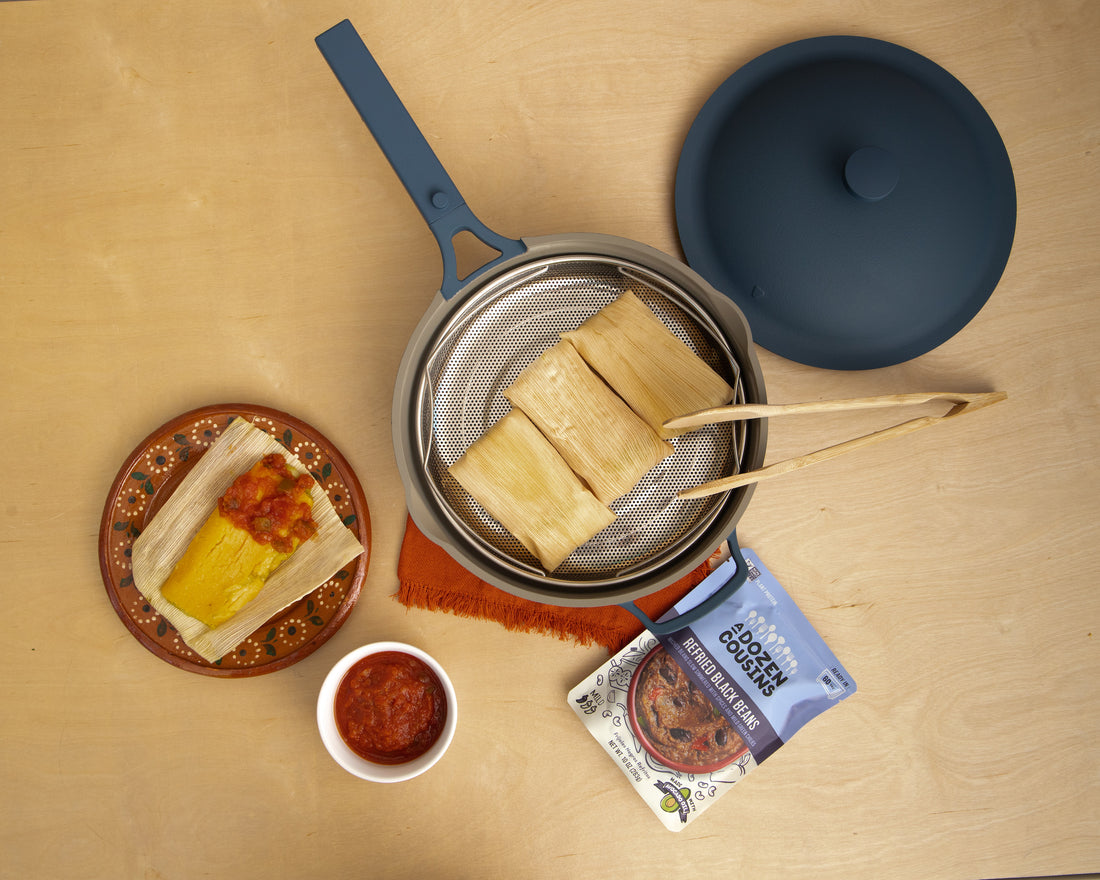 • 1 Pouch A Dozen Cousins Refried Black Beans
• 2 Cups Masa Harina or Instant Masa
• 1 Tsp Sea Salt
• 1 Tsp Baking Powder
• 1 Tsp Cumin
• 1/2 Cup Olive Oil
• 1 1/3 Cups Vegetable Broth
• 1 Package Dried Corn Husks, Soaked

OPTIONAL:

• Salsa
• Cubed Cheese
• Jalapeños


PREPARE MASA
• Add the masa flour, salt, baking powder, and cumin to a large mixing bowl. Whisk to combine. Add the oil and broth and beat until well combined and the mixture forms a thick dough. If it's too dry, sprinkle with water or broth, and if it's too wet add more masa flour.

PREPARE CORN HUSKS
• Soak the dried corn husks. Place the corn husks in a large pot or bowl and cover with warm water. Soak for 30 minutes or until softened.

TAMALE FILLING
• Open a bag of ADC Refried Pinto Beans. Feel free to also add cubed cheese, jalapenos, etc.

• To assemble, lay the corn husk on a flat surface. Spread about a 1/4 cup of masa on the corn husk, using a spatula or a spoon. Spread the masa into a large rectangle (don't spread the masa completely to the edges).

• Add 1-2 tablespoons of ADC Refried Black Beans to the center of the masa. Fold the corn husk in half vertically. Bring both sides of the husk together in the center, ensuring the masa is wrapped completely around the filling. Fold both ends down towards the center, enclosing the tamale filling in the corn husk.

• Add water to the bottom of the pan and add the steamer basket on top (Make sure the water does not touch the bottom of the steamer basket). Add your tamales and steam for about 30 minutes or until the tamales are cooked through (the masa will separate easily from the masa once cooked). You may need to add more water throughout the steaming process.

• Remove the bean tamales from the steamer and enjoy!

Choosing a selection results in a full page refresh.