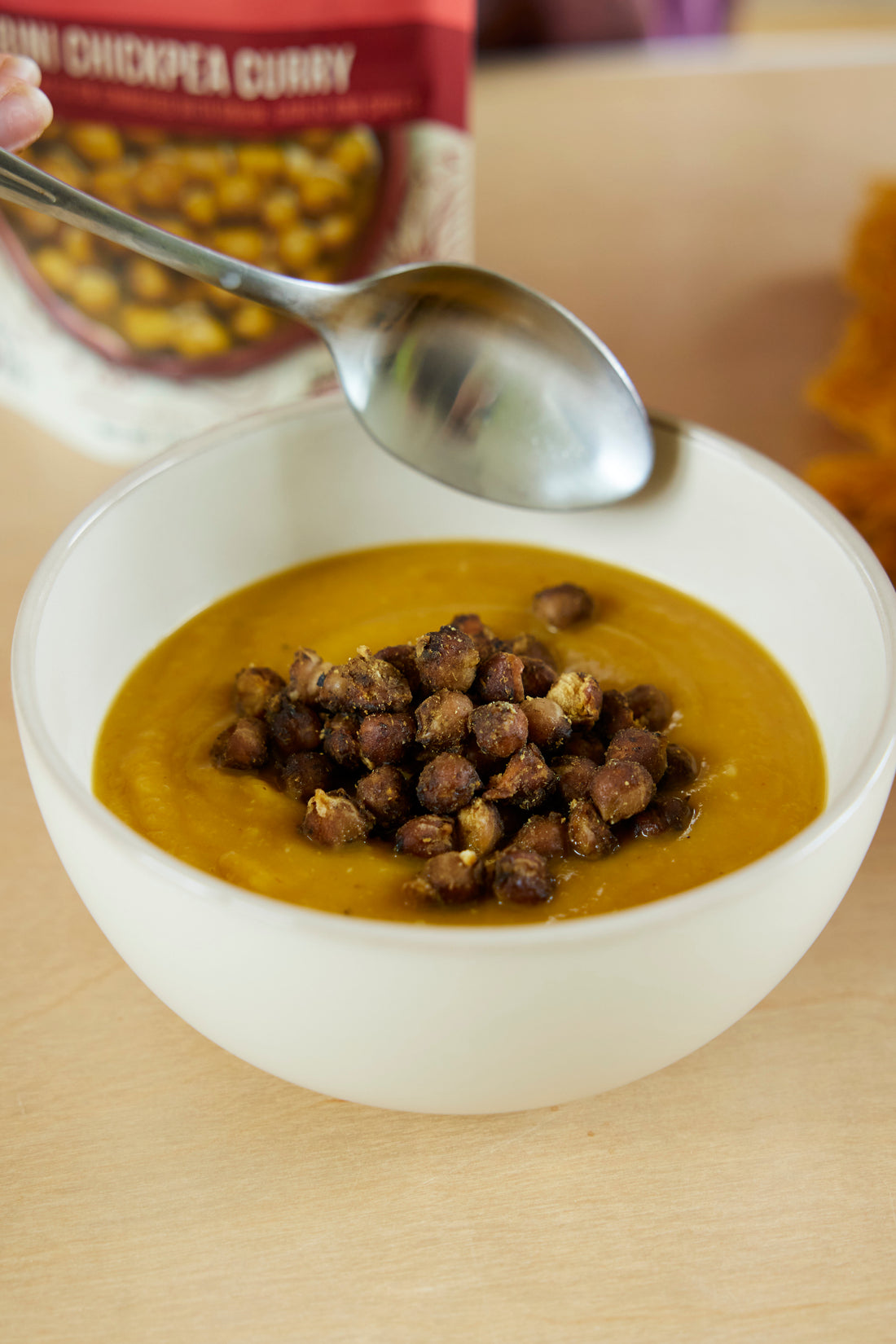 • 1 pouch of A Dozen Cousins Trini Chickpea Curry

• 1 butternut squash

• Olive oil

• 4 garlic cloves, minced

• 1 shallot, minced

• 4 cups vegetable broth

• 1 tsp maple syrup

• 1 tbsp butter

• Salt & pepper, to taste

• Cut butternut squash in half, vertically, and remove seeds.

• Preheat oven to 425 degrees F. Place the butternut squash halves on the pan, drizzle with olive oil and season generously with salt and pepper.

• Turn the squash face down and roast in oven for 40-50 minutes, or until it is fully cooked through and tender. Set the squash aside until it is cool enough to handle.

• On a separate baking sheet, pour 1 pouch of A Dozen Cousins Trini Chickpea Curry. Spread out evenly into one layer and roast in the oven at 400 degrees F for about 12-15 minutes, or until crispy. Make sure to mix around halfway through. Set aside once done.

• Heat olive oil in a large pot over medium heat. Add minced shallot and sauté for 2-3 minutes.

• Add garlic and sauté for an additional 1 minute.

• Using a large spoon, scoop out the flesh of the butternut squash into the pot. Add vegetable broth and maple syrup. Blend using an immersion blender until smooth.

• Add butter and salt & pepper to taste.

• Serve and top with roasted Trini Chickpeas.

Choosing a selection results in a full page refresh.