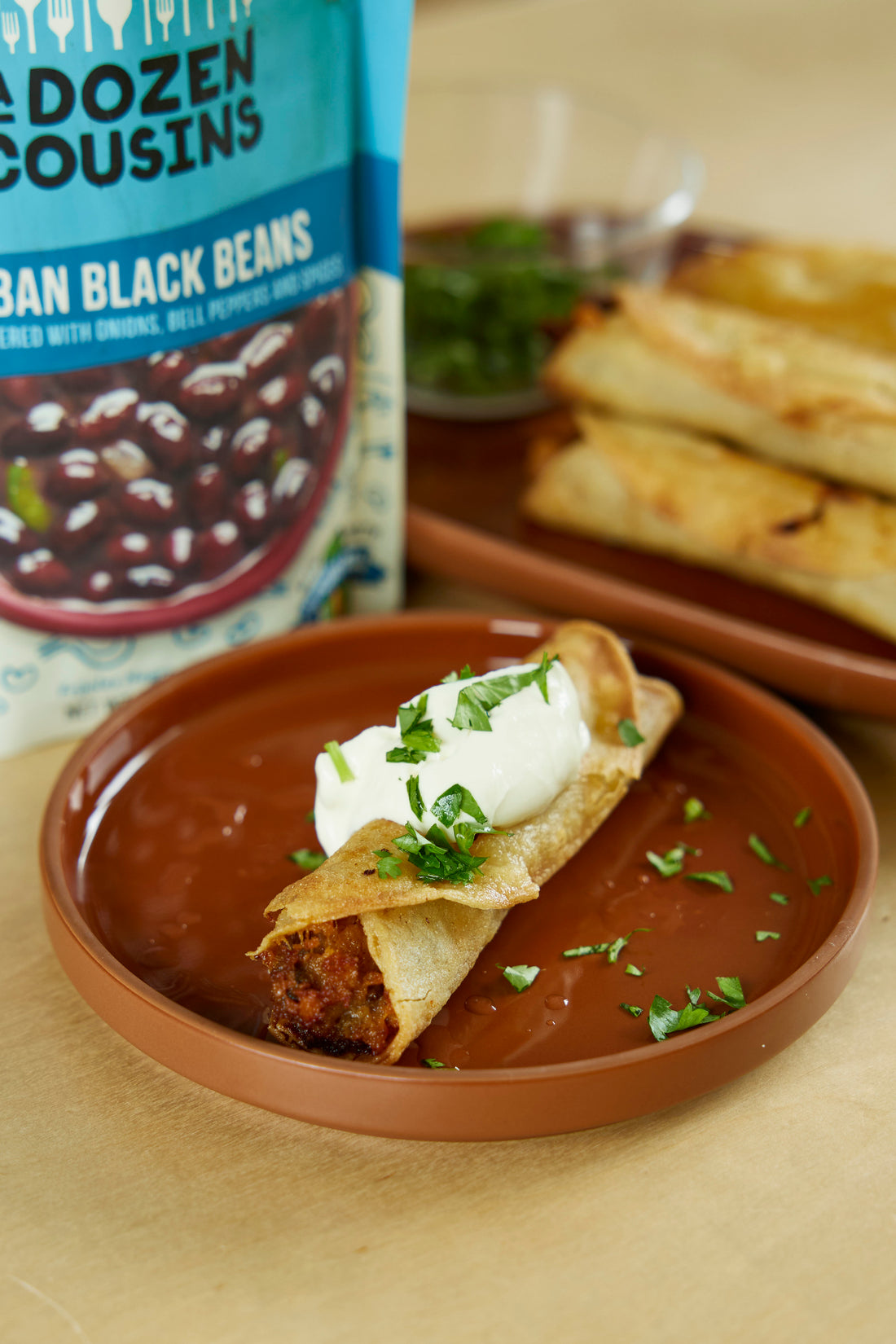 • 1 pouch of A Dozen Cousins Cuban Black Beans

• 1 sweet potato

• 1 tbsp garlic powder

• 1/2 cup shredded cheese

• Salt & pepper, to taste

• 10-12 corn tortillas

• 1-2 cups vegetable oil

• Sour cream, garnish

• Cilantro, garnish

• Bring a medium pot of water to a boil.

• Peel and dice sweet potato into cubes and add to boiling water. Boil potatoes for 15-20 minutes, or until potatoes are tender and cooked through. Drain water.

• Add cooked potatoes to a large bowl and mash until mostly smooth. Add 1 pouch of A Dozen Cousins Cuban Black Beans, garlic powder, shredded cheese, salt and pepper. Mix to combine and set aside.

• Wrap corn tortillas in a damp paper towel and microwave for 30 seconds. This helps to ensure the tortillas don't break while rolling.

• Place tortilla on a flat surface. Place about 2-3 tbsp of the sweet potato & black bean mixture on the bottom third of the tortilla. Roll tortilla tightly around filling and secure with a toothpick. Repeat until all of the filling is used up.

• In a frying pan, heat about ¼ inch of oil over medium-high heat. Amount of oil needed will vary based on size of pan.

• Place taquitos carefully into hot oil with tongs, and cook on each side for about 2-3 minutes, or until golden brown and crispy.

• Place cooked taquitos on a paper towel lined plate to drain.

• Garnish with sour cream and cilantro.

Choosing a selection results in a full page refresh.