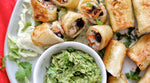 Ingredients:

1 Package of A Dozen Cousins Cuban Black Beans 

Shredded carrots

Jalapeno (chopped) 

Onion (diced) 

Corn 

Egg roll wrappers 

Frying oil
Instructions:

In a large bowl, mix together 1 package of A Dozen Cousins Cuban Black Beans with shredded carrots, jalapeno, onion, and corn.

Fill each egg roll wrapper with the desired amount of filling and roll the bottom corner of the wrapper over the filling towards the center. Fold in sides and continue rolling. Seal the edges of the wrapper with water. Continue until all of the filling is used. 

Heat frying oil in a large skillet over medium-high heat.

Slowly place egg rolls into oil, careful not to overcrowd. Cook each side until deep golden brown.

Drain excess oil on paper towels.

Enjoy with a dip of choice.